Property name: Windsor Court Hotel
Where: New Orleans CBD
Street address: 300 Gravier Street, New Orleans, LA
Phone: 504-523-6000
Rates for Reviewed Suite: Approx US$ 475 – 675 per night based on seasonality. 
According to verbiage on the hotel site: "A haven for the discriminating traveler, Windsor Court offers a touch of England in the heart of New Orleans. Guests enjoy the food, jazz, history, architecture, and the sultry sensuality of New Orleans, while also experiencing the luxury, superior service and privacy of Windsor Court. This newly renovated, award-winning property boasts 43 deluxe guestrooms, 213 suites and 60 club level accommodations that include access to our exclusive club lounge. All accommodations offer private balconies or bay windows overlooking the Mississippi River or the city skyline. Hotel amenities include a fine-dining restaurant, two lounges, gift shop, a boutique spa and an outdoor heated swimming pool."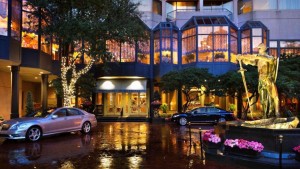 Windsor Court Hotel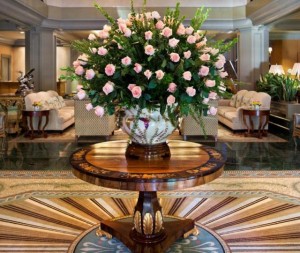 We travelled to New Orleans for Mardi Gras 2016 and put the above verbiage  to the BucketListed test.  Here is our experience:
Check in was smooth. The bellmen/doormen met us and collected our luggage promptly. There was a short queue but immediately when we walked in to the beautiful lobby, a receptionist who was across the room came over and offered to assist us at a separate desk. He efficiently ensured that our Suite was available and that our special Signature Amenities courtesy of BucketListed Travel* were explained and provided.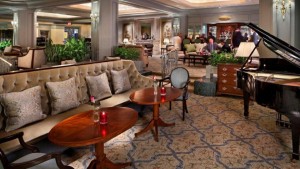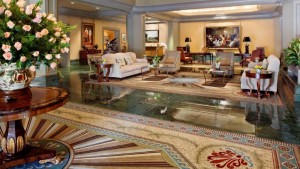 We had an excellent Balcony Suite 310 that provided us with views of the parade route on Tchopitoulas. Though partially obscured by the tree canopy, it enabled us to see much of the activity and we could go down for a closer view of anything that caught our fancy. We were riding in a Krewe ourselves so catching throws (beads) was not a priority. Despite being right on the parade route, we were not inordinately disturbed by the festivities (and they were LOUD). In addition the suite is directly infront of the elevators. That could be room for concern but we were absolutely undisturbed by hall noise the entire trip. The suite was well kept and housekeeping was very good.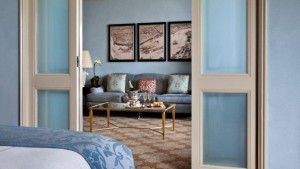 Service in the Bars was excellent despite the hubbub of the season. Many people alternated between the game set up on big screens in the Lobby Lounge and Mardi Gras parades outside on Super Bowl Sunday. Despite the competing interests, the staff in the Bar and the Manager acquitted themselves well. The one minor downfall was the Grill Room restaurant. One evening the entrees were inconsistent with previous experience. Service recovery was swift and the entrees were removed from our bill without question. Otherwise the restaurant offerings were also well above average with particular kudos to the Prix Fixe lunch menu (meat and three) replete with a martini, sorbet and a delightful amuse bouche of crab and citrus. Heading out to our floats at 330 am on Fat Tuesday, the bell staff was not out front. Not to worry, in a jiffy someone stepped out to call us a taxi without us having to search around. Check out was smooth. Overall I would say this hotel is well deserving of its reputation for anticipatory service. Nicely done.
This Property meets our criteria to be BucketListed and received five circles from us on a Trip Advisor review. BucketListing is our highest praise and means we would be inclined to recommend and book this hotel for our clients, and will likely stay here again.
Disclosures : BucketListed Reviewer pays for ALL lodging and expenses and is not incentivized in any way by a reviewed establishment. We may be provided amenities* based on being clients of  BucketListed Travel, an agency- member of Signature Travel Consortium.
*BucketListed Amenities
Continental Breakfast for two daily
Lunch for two, once during stay
The following amenities were subject to availability at time of check-in: Upgrade
For booking assistance inquire at bucketlistedtravel@gmail.com or Book online with www.bucketlistedtravel.com