Yup thats me! Why not ? it's a festive time, it's a holiday and it's the birthday of my favorite person in the Universe. Who doesn't like someone who lays down his life for you? Plus my heiny has been in a sling on so many occasions that I knooooow nothing but Jesus saved me. That's why I mean it when I say "Jesus take the wheel." I know he will because if he did it before, he'll do it again.
Anyhooooo. I am not a preacher just some one living a bucket listed life so on with the post. :-).
Christmas is never about the madness of gifts and shopping etc. At least not for us. My idea of a desirable life is that I never have to wait for a specific event to get or give a gift so the things I need and want are procured during the year. Apart from the little ones who still get routine gifts, Adults are gifted only if I see or think of something that would be a "must have" or a really pleasant solution to a problem the recipient didn't even realize they had. In this way the gifted is also totally freed from an expectation of giving something in return. I guess what we do is  give rather than exchange gifts. We spend our holiday time around the other excesses of the season. The decorating, festivities and the eating.  There will be a future post dedicated to the meal itself but back to the issue at hand.
I push Christmas along. Every year it is the same. I typically start with the carols and the excitement early but this year I think I beat the record. Usually I am traveling back to Nashville from Jamaica for Christmas or waiting on family to join us in Jamaica for Christmas so the actual decoration piece often gets pushed back. We have done Nashville Christmas for the last couple of years and let me tell you, I went a bit overboard with the timing this year. I didn't overdo everything BUT can I tell you? My decorations were up and complete 3 weeks BEFORE Thanksgiving which means 7 weeks before Christmas. Welp!
Every year I do a different theme.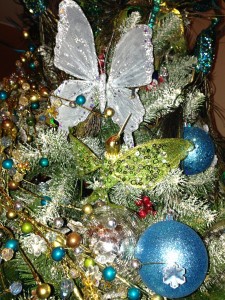 2012: "All Creatures Great and Small "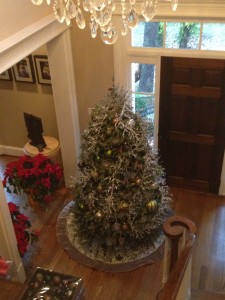 2013 "The First Frost of the Season"
Here's a pictorial preview of the madness that is 2014's  "Nashville Country Christmas". (There are guitars tucked away in the tree)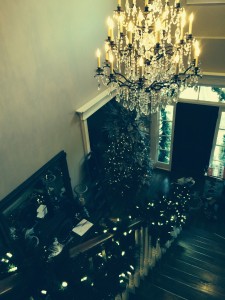 If anyone can live with twinkling lights, glitter and wreaths of holly for weeks on end, they deserve the Christmas Crown. I think so. LOL