So Christmas is coming. Major excitement. At least in my household. I love Christmas. The rest of my family humor me. Over time my husband has grown to love Christmas too so I go all out and decorate tip to toe. I may spend days decorating my tree for a 'custom look"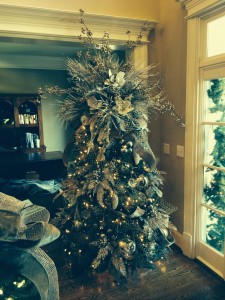 The decorations don't stop at the tree. The doors, lamp posts, and mantles get done up too. I actually decorated this year on November 7th. Yikes. Ok. Ok. a bit of overkill but what can I say? I am the Queen of Christmas. More on the decoration phase here.
This post, however, is not about the fun part of Christmas. It is not even the usual blah blah blah about keeping Christ in Christmas, but about something a bit deeper than that. I believe when people talk about Christ in Christmas, it is interpreted as "be less commercial, and go to Church." We then say a prayer, perhaps go to Midnight Mass, light a few candles and sing the more religious Christmas Carols as opposed to Jingle Bells. All is well with the world.
Here is what I will say. Instead of keeping the name of Christ in Christmas, how about keeping the Spirit of Christ in Christmas? Whether you are a believer or not; Surely even the biggest atheist among us can find no fault with the "idea" of someone who would give his/her life for someone they loved. Who is truly good and pure and whose purpose is to make others better. Someone who is truly interested in the uplifment of Mankind is to be celebrated, don't you think? If we ignore for a second what Mankind has done to the legacy of the Christ, I think we could all agree that keeping the spirit of Christ in our modern day commercial Christmas is a good thing. Especially at this particular Christmas time.
This Year at Christmas, The goose is getting fat but many people are also getting their goose/geese cooked!  The last half of this year has been filled with upheaval, death and disorder bordering on chaos. This is a time when Nation has turned against Nation, brother seemingly against brother. A time when it has become frightening for some segments of the population to simply exist and a time when other segments can find no validity in those claims of fear. Children are dying, and the inflammatory rhetoric is flying. As a result of the deaths of so many Black People at the hands of Law Enforcement Officers, there have been wide spread protests in the streets of this Country. There has now been the killing of two NYPD Police Officers who were shot "execution style" by a man who clearly had anger and mental issues. This same man also shot his ex-girlfriend with an intent to kill her just hours before and had fled to NYC just ahead of an all points bulletin (APB) for his arrest.
The claim is now being made that these were 'reprisal killings' for the murder of a Black man, Eric Garner, by the NYPD. Fast on the heels of these claims has come even more inflammatory rhetoric that the protests for justice and against Police brutality caused this man with a long history of criminal behavior and multiple incarcerations to execute those officers.
This is a tragic thing to have happened and is an act so reprehensible in its deliberate and specific intent that it takes my breath away. Here is where I get off the train of popular sentiment.
Imagine this. Christmas is coming and you expect guests. You haven't used your guest room since last Christmas and have scarcely given it a thought in your routine cleaning. You open the door and turn on the light. Quelle Horreur! The mess is startling. Dust everywhere. Your son hs been stowing his junk in the antechamber, there are dust bunnies under the bed and the dreaded black ring in the toilet that comes with not flushing often enough. If there's no use why flush? Right? Wrong. Anyway, you also note a faint smell of mustiness and obviously the bed needs to be made with fresh sheets. Bottom line, there's work to do.
The question is did opening the door and shining the light cause the mess or did it just reveal it and force you to acknowledge what has always been there and needed attention? All light did is push back darkness. The revelations that ensue stand alone.
In much the same way the protests that are a response to events of the past few years didn't cause the shootings of these Officers. It is the light that revealed the mess we are in. It is our responsibility to throw the sheets back, do a thorough dusting, open the windows and let some fresh air in.
At the end of the day, if we focus on reproducing the Spirit of Christ at this time of year, we would look behind the external to the humanity of each other and really work on bring "peace and goodwill to ALL men"
I say nothing guarantees a bucket listed life like peace.